We Visited Humphreys Waste Recycling
This year Humphreys had opted for the NTM K-2K
02.11.2023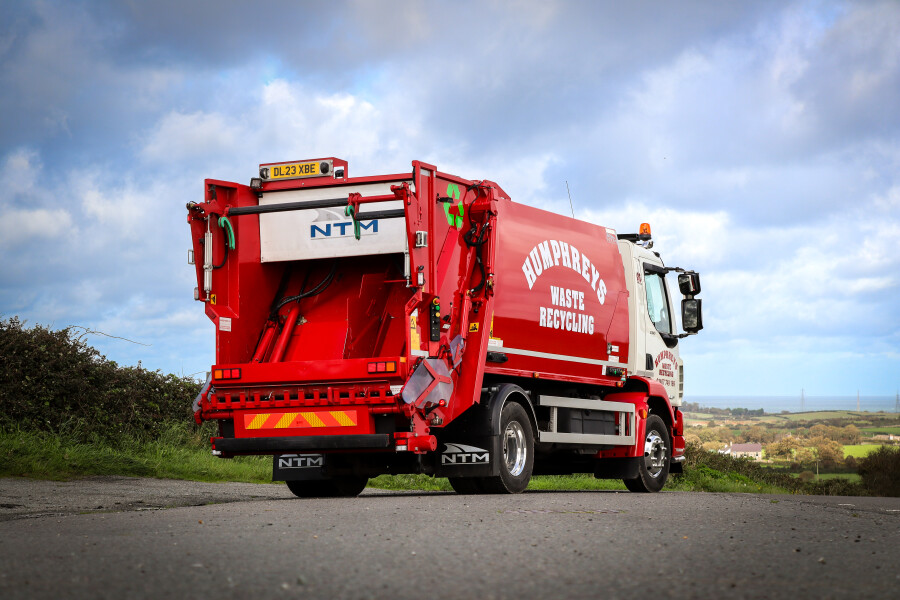 A place of unparalleled beauty and amazing adventures, Anglesey is an historic island full of character. A place that inspires and appeals to all the senses, Humphreys Waste Recycling is situated outside the village of Bryngwran on Anglesey.

Humphreys Waste Recycling Ltd was started in the year 2002 by Kevin Humphreys. Running a transit van hooklift supplied by LinkTip Recycling group which NTM-GB acquired in 2011. It was the first on the island to offer recycling services. The company has now grown into a large business leading the way in recycling on the island. A string of investments has seen it develop their site in Refail Newydd with new picking lines, more vehicles and waste separation technology which has enabled it to achieve a zero-to-landfill recycling rate.
Currently Humphreys Waste professionally manage numerous contracts with the likes of universities, holiday home sites, builders' merchants, local authorities as well as ferry firm `Stena Line`, which sails to Dublin from Holyhead. Now with over 20 years' experience the business is embracing the dawning of a new decade by adding construction and demolition waste to Humphreys wide range of offerings. This has all been achieved despite the numerous challenges which include being based on an island with narrow roads and hard to access points & a rural landscape which booms during the summer which results in doubling the workload.

This is where NTM formed a relationship with Humphreys to work together to find solutions to some of their challenges they were faced with. With NTM manufacturing vehicles tailored to the customers specifications and requirements we knew that we could help Humphreys by supplying our range of K-Series which are designed specifically for long-life & reliability, and a great choice for restricted/narrow access collection routes.

Humphreys NTM vehicles are in operation 5 days a week, which is increased to 6 days in the summer months to help with the increased workload. Humphreys use the NTM vehicles to collect a range of commercial and trade waste bins –
generally 240L-1100L Bins.

This year Humphreys had opted for the NTM K-2K model with the rear body, split approximately 70% / 30%, which features a single tailgate with a uniquely designed divider plate in the hopper to minimise cross-contamination, and a
containment door to 30% side which remains closed when the 70% side is being discharged.

The reason why they opted for the K-2K Cai explains is "Simplicity, Durability and the easy operation of the vehicle, the vehicles we have are in constant operation and we very rarely, if ever have them off the road for repairs. We can now adapt and change with the new Welsh regulations which are coming into force in April next year with this new vehicle, this will allow us to carry more waste per vehicle with the ability to collect 2 different waste streams."

The plan, says Cai, is to continue to invest and grow.
"It's the brutal reality of this industry, if you're not spending money, updating, Implementing and putting new ideas into action, you'll get left behind". "Its pressure," he adds, "but we work our hardest, we make sure we make the right choices and we do the maths".
"We value the backup support NTM gives, maximum 1 to 2 days for parts to arrive with fitters available upon request makes our life easy, the quality of the product is great and you can see the craftsmanship in the product, hence why it was a
easy decision to use NTM as a supplier for our Refuse Vehicles"